This Gift In A Jar is filled with 52 Things making it A Year In A Jar. It's a handmade gift idea for Valentine's Day, Christmas, Father's Day or Mother's Day.
I love Valentine's Day because I think it is a great reminder for us to really think about those we love.  But I don't like that it lasts only 1 day…because love lasts the whole year!
So, that got me thinking of a way to keep us reminded of our love throughout the year.  Want to know what I am giving Brian for Valentine's Day?  A year of reasons why I love him.  Yep, 52 reasons (I will refill it next year with more reasons).
I put them all in a jar and he is to open one a week.  Don't you think it would be fun for a bride and groom to give each other as wedding gifts?
Or how about a shower gift that will become 52 Things from the first year of a babies life?  It would be like a Baby Book In A Jar!  Or what about giving a jar to your mom on Mother's Day?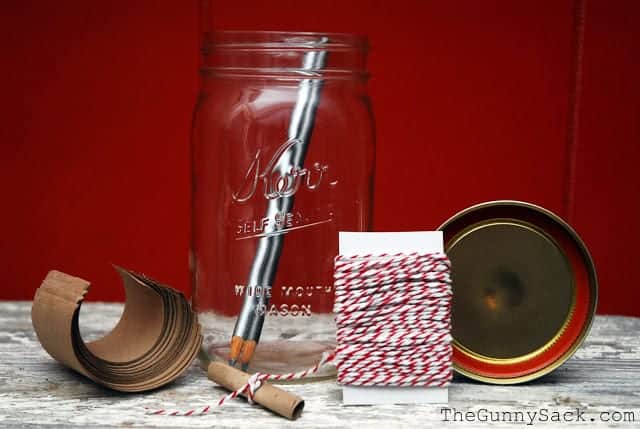 They are easy and super cheap to make.  Cut out 52 rectangles of kraft paper (I picked mine up at the dollar store) about 2 inches by 4 inches each.
If you are giving this as a gift for someone else to complete such as a bride-to-be or new mother, put the kraft paper, baker's twine and a couple of colored pencils in a glass mason jar.  Be sure to add instructions as to what is to be done with the gift!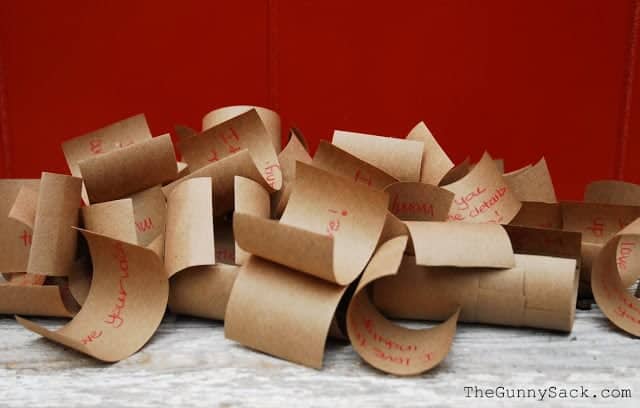 If you are the one giving the gift, fill out 52 things on the pieces of kraft paper.  Mine are 52 Things I Love About You.  Yours could be 52 memories or 52 wishes or whatever you want!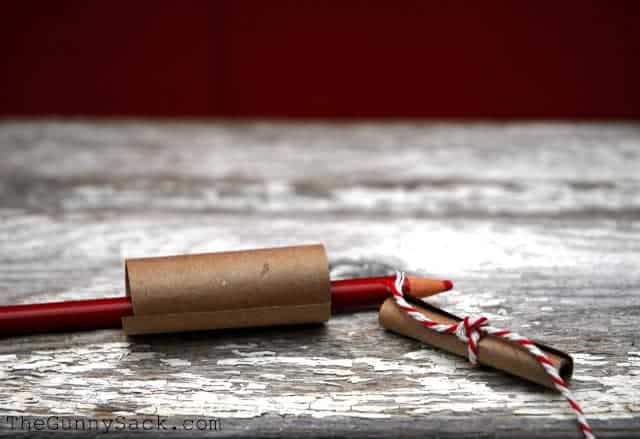 Cut 52 – 6 inch pieces of baker's twine.  Roll up each piece of kraft paper.  I rolled mine around the colored pencil I used for writing.  Tie a piece of baker's twine around each roll.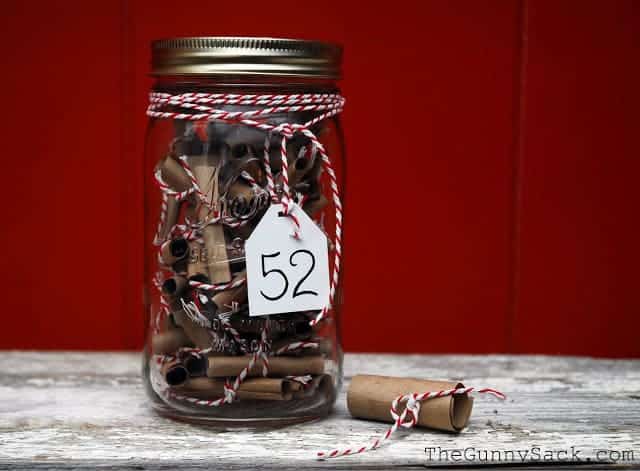 Randomly toss the rolled up notes into the mason jar and put the lid on.  I wound some additional baker's twine around the mason jar and added a tag that says 52.
So, what kind of 52 Things jar are you going to make?
52 Reasons I Miss You
52 Memories of Us
52 Ways You Are A Great Friend
First 52 Weeks of Your Life
52 Reasons You Are A Fantastic Kid
52 Things To Photograph
52 Ways You Are The World's BEST Mother/Father
52 Things To do This Year
52 Date Ideas
******
Some of you have be complaining 😉 about not being able to think of 52 things so I am going to give you some ideas/topics for the "52 Reasons I Love You" jar to get you started: {I'm keeping it G Rated}
Personality Traits You Love: Sense of humor, Outgoing, Quiet, People Person, Reserved, Helpful, Thoughtful, Cooperative, Stable, Impulsive, Organized, Disciplined, Random, Spontaneous, Unique, Sympathetic, Resourceful, Committed, Loving, Sociable, Talkative, Positive, Sarcastic, Curious, Adventurous, Emotional, Energetic, Calm, Laid Back, Focused, Driven, Unconventional, Straightforward, Subtle, Enthusiastic, Honest, Decent, Trustworthy, Generous, Supportive
Physical Traits You Love {Color, Texture, Size, Etc}:  Eyes, Hair, Lips, Smile, Eyelashes, Hands, Fingers, Legs, Feet, Ears, Height, Petite, Muscles, Shoulders, Skin, Scar, Mole
I Love The Way You _____:  Play With Our Kids, Make Breakfast In Bed, Kiss Me Goodbye, Get Up With The Kids In The Night, Kiss Me Hello, Remember My Birthday, Complete My Sentences, Know What I Am Thinking, Laugh, Sneeze, Care About Your Health, Love To Learn, Make Me Laugh
You Are An Awesome ______:  Person, Husband, Wife, Mother, Father, Son, Daughter, Brother, Sister, Lover,  Leader, Cook, Photographer, Provider, Artist, Singer, Friend, Uncle, Aunt, Mechanic,Techie, Runner, Teacher, Listener
You Are My _____:  Best Friend, One and Only, Sunshine, Anchor, Helpmate, Forever and Always, Favorite, World, Bliss, Strength, Comfort, Star, Soul Mate, One in 6 Billion, Everything, Happy, Home, Family, Nest, Buddy, Number One, Inspiration, Match, High, Type, Heart, Dream Come True
You Are _____:  Beautiful, Handsome, Gorgeous, Pretty, Special, Kind, Important, You, Mine, Amazing, Larger Than Life, Fascinating, Loved, Fabulous, Fantastic, Adored, Brave, Breathtaking, Incredible, The Wind Beneath My Wings, Always On My Mind, Everything I Ever Dreamed Of, A Miracle, A God Send, A Gift, The Icing On My Cake, Cream In My Coffee
Here are a few more Gift In A Jar ideas to love: